Rainy and windy days are not rare in Copenhagen. So if you are in town and treated to sunny weather then make sure you spend as much time outdoors as you can. I strongly recommend visiting one of Copenhagen's outdoor playgrounds as well as joining our guided family tour on a traditional Danish cargo bike.
When the forecast is grim then you have two options: do as the locals do and just ignore the rain: gear up and experience the real Copenhagen-feel. It can be fun and romantic, trust us. Alternatively, you can make a backup plan with the following list of things to do in Copenhagen with kids on a rainy day.
1. Run off your energy at Remisen
Remisen is a completely free, creative play area for kids that will make you wish you were a toddler too. Time flies by quickly when you can choose to be a pirate, cowboy or princess in a huge indoor playground. There are lots of space to run around but also smaller rooms available to unfold creativity with LEGO or jigsaw.
Our tip: Remisen organizes indoor flea markets almost every week that can be a fun activity for both parents and kids.
Age group: 0-12
Address: Blegdamsvej 132A 2100 København Ø
Opening hours: See it here.
Price: Free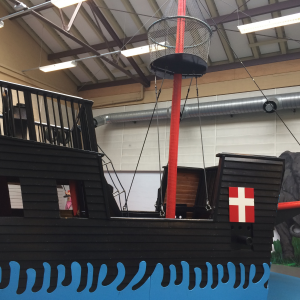 2. Embrace your inner geek at the Experimentarium
A half day can go by like nothing when you can experiment, challenge your brain and body while learning about science in an interactive way. "Children should WANT to learn, which is the goal of the center" – says Kim Gladstone, the Director of Experimentarium. Being located in Hellerup this will also allow you to explore the area of the waterside including the Charlottelund beach and fort that are only a few stops away by train or bus.
Our tip: You can grab snacks at their café but you are also welcome to bring your own lunch.
Age group: Mostly 4+ years, although there are activities for younger children too.
Address: Tuborg Havnevej 7, 2900 Hellerup

Opening hours and price: See it here.
3. Climb, slide, crawl or jump at Ku.be
The newly opened Ku.be offers the combination of cultural events and physical activities with the aim of bringing people together in a place where "body and mind are activated to promote a more healthy life for everyone, regardless of age, ability or interest; creating links between people that wouldn't otherwise connect with each other." Let me translate that into children's language: You will be challenged by a three-dimensional labyrinth, nets, slides and fireman poles that span several floors. So why would you walk when you can climb, slide, crawl or jump?
Our tip: Check out their website for special events before your visit
Age group: Fun for both children and adults
Opening Hours: See it here.
Address: Dirch Passers Allé 4, 2000 Frederiksberg
Prices: Free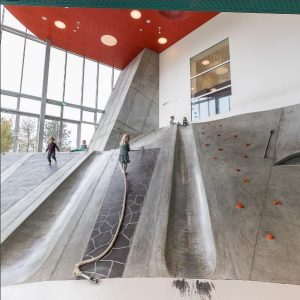 4. Paint your own pottery at the Creative Place
The Creative Place in the heart of Frederiksberg and Østerbro will let you forget about the world around you while you can let your imagination run free. They have a wide selection of Italian ceramics and 80 colors to choose from. You will be assisted by the experienced staff who will not only share tips and trick about the art of pottery painting but will also add the final touch to your masterpiece by glazing it while you can sip a cup of coffee or juice.
Our tip: Make sure you call them before your visit to book a table, especially on the weekends.
Age group: 1-101 years 🙂
Address: There are two locations:
FREDERIKSBERG. Gammel Kongevej 154, 1850 Frederiskberg
ØSTERBRO: Kastelsvej 1 2100 København Ø
Opening hours: See it here.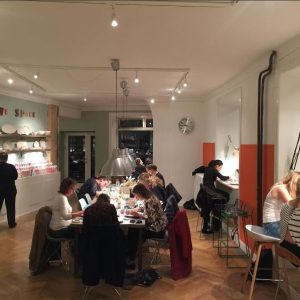 5. Swim at Valby Water Culture House
Meet local Copenhagenfamilies at Valby Water Culture House! The big pool has a play area and some swimming lanes. Thereare heated caves, two water slides and a toddlers sopping basin including a lot of playing equipment like bathing ducks and foam toys. It is a green, low energy pool that focuses on using less energy than similar places.
Our tip (for the brave): go for the ultimate Danish experience and try one of the outdoor swimming spots in Copenhagen.
Age group: All ages are welcome: apart from the big pool there is a warm water basin used for baby swimming and therapeutic classes.

Address: Julius Andersens Vej 1A. 2450 København SV
Prices and opening hours: See it here.