In Copenhagen, we are lucky enough to have an abundance of parks with some sort of play space for the little ones. To be exact, there are 125 playgrounds across the city, of which 26 are staffed with qualified children specialists who organize different activities for them. These areas vary in terms of quality so we gathered our top pick for the best outdoor playgrounds in Copenhagen – they are free, outdoor and fun!
As the playground stop is one of the highlights of our Family Tour, we have tested each of them with our little experts. Small or big, traditional or themed you will surely find one that suits your children's abilities and curiosities and will lure your family into the relaxing outdoor atmosphere on your city trip.
Traffic playground in Østerbro

The traffic playground invites both younger and older kids to connect fun with learning about traffic rules and road safety. Seeing a Dane jaywalking is as rare as hen's teeth simply because they are disciplined rule followers. regarding transport, these rules can be observed and practiced by children. The area features miniature traffic lights, road signs, bike lanes and petrol station.
Age group: For younger children (2-5 years) there is a separate area where they can borrow tricycles,"moon-cars" and trailers while 5-14-year-olds can choose non-motorized go-karts from the garage.
Address: Gunner Nu Hansens Plads 10 2100 København Ø
Opening Hours: Mon-Thurs: 09.30-17.00 Fri: 10.00-17.00 Sat-Sun: closed
Where to grab a bite: The Laundromat. A children-friendly eatery with library and table games. Address: Århusgade 38, 2100 København Ø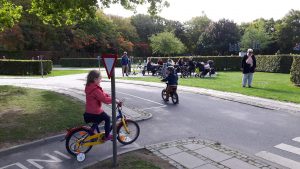 Superkilen in Nørrebro
Superkilen is a 750 m long urban park located in the heart of the multicultural Nørrebro district. It consists of The Red Square, The Black Market, and The Green Park representing the diversity of the neighborhood. The colorful objects in the parks have been specially imported or copied from home countries of the local residents. So including but not limited you can find a picnic table from Armenia, hammock from Australia, BBQ from South Africa, table tennis from Spain and playground rack from India. According to the design team "No matter where you're from, what you believe, and which language you speak, it is always possible to play soccer together." – and this is why we consider it one of the best outdoor playgrounds in Copenhagen.
Age groups: it accommodates a wide range of ages offering diverse activities from sports (cycling, boxing, basketball) to more relaxed pastimes (BBQ, picnic, markets, chess)
Address: Nørrebrogade 208 2200 København N
Opening hours: 24 hours
Where to grab a bite: When in Nørrebro, eat as the locals. Kösem was voted as the best shwarma in Copenhagen last year and it is just around the corner from Superkilen.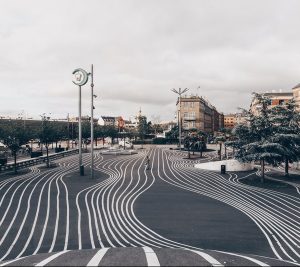 Nature Playground in Valby

The Valby Park situated in the southwestern corner of Copenhagen is a massive area with forests, fields, picnic tables and Denmark's largest nature playground. It consists of paths and walking tracks through hills, looking point and ropes leading you under 5 themed towers. As it is located on the Copenhagen outskirts, spending a few hours there will ensure that the little ones will nap on their way back. 🙂
Age group: popular excursion spot for all ages
Address: Hammelstrupvej 98, 2450 København SV
Opening hours: 24 hours
Where to grab a bite: Rallys offer delicious home-made sandwiches, cozy atmosphere, and comfortable surroundings. Address: Mozartsvej 9, 2450 København SV
There is a café in the park where you can get some snacks or Danish ice cream form the freezer.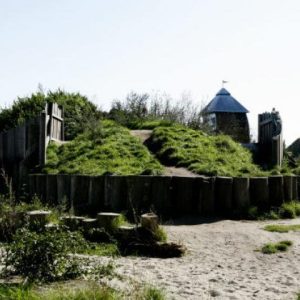 Skydebanen in Vesterbro

Skydebanen is a staffed play area which was converted from a former shooting range. The somewhat hidden park is widely popular amongst locals as it offers different activities for children all year round. During warmer months the toddler (and parents feet) pool is the most popular spot while in the wintertime children can slide around with their sleigh.
Age group: Recommended for children from 3 to 15 years old.
Address: Absalonsgade 12, 1658 København
Opening hours(with pedagogical staff and access to tricycles: Mon – Thu 9:30 –17:00, Fri 9:30–17:00, Sat-Sun: Closed. Otherwise always open.
Where to grab a bite: Mad & Kaffe won the prize for Copenhagen's best cafe and it lives up to its title. Whether you opt for breakfast, brunch, lunch or dinner, the cafe offers equally delicious dishes with children option. You can also opt for a more traditional experience at Absalon communal eating. Read more about it here.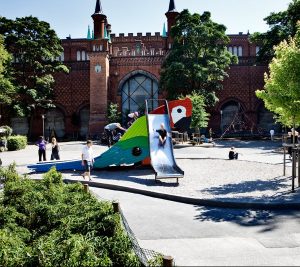 Frederiksberg Gardens

Frederiksberg Garden is an inviting park including the Copenhagen Zoo, lakes and a lovely playground offering fun activities for all ages. Its activities were designed in an interesting way, harmonizing with the romantic surroundings. Make sure you pay a visit to the infamous Pacifier tree where toddlers say goodbye to their pacifiers forever. As a result, they turned an ordinary tree into a colorful piece of art created by brave, big children.
Age group: The playground suits the small kids best, but everyone will find entertainment there.
Address: Frederiksberg Runddel 1 2000 Frederiksberg
Opening hours: Mon-Sun: same as the opening hours of Frederiksberg Gardens
Where to grab a bite: Opt for a traditional Danish food experience at the neighboring MG Petersens Familiehave, Krøgers Familiehave or Hansen's Old Family Garden.