Cool things to do in Copenhagen with kids – A local's guide
H.C Andersen, Tivoli, LEGO, Queen Princesses, and Princes are just a few reasons why Denmark has a reputation for being a fairy tale country and an ideal destination for families with smaller kids. However, visiting the main tourist attractions is one thing and experiencing the city as a local family is another. Danes usually avoid going to the most popular sights such as The Little Mermaid or the Royal Palace. The off-the-beaten-paths can be surprisingly difficult to find (unless you join our Family Bike Tour with a local guide) so we have rounded up our favorite local events and locations. These are – in our opinion –some of the best opportunities to mingle with Danish families regardless of the weather. The below things to do in Copenhagen with kids will make you fully understand what makes Copenhagen unique.
1. Absalon community dinners (folkekøkken)
Community dinner is one of the best ways to meet locals and try traditional Danish meals on a budget. At these cozy events, you are seated at long tables sharing simple, yet hearty food with your table mates.
Community dinners are organized around Copenhagen at several locations but Absalon is the most well-known place. It offers this unique experience every day at 6 pm for as little as 50 DKK. Monday and Wednesday are vegetarian days and a Friday night Delux dinner with dessert costs 100 DKK/person.
Our tip: Due to the popularity of these events it is recommended to get there by 5.30pm as tickets are sold on a first come, first served basis.
Menu and more information (in Danish): view it here.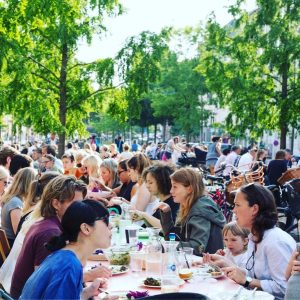 2. Harbour baths and beaches
The 7300 km of Denmark's coastline and several harbor baths ensure that you are never far from a beach in Copenhagen. Amager Beach Park and Svanemøllen Strand are two of the closest and most popular sandy beaches located reachable distance from the city center while harbor baths offer unique experiences as Copenhagen ss one of the cities where the harbor is water clean enough to swim in. The season for harbor swimming is all year round which might sound scary but science has proved that dipping into icy cold water flushes out toxins and invigorates the blood circulation – and Danes swear by it.
Our tip: Try the harbor bath at either Islands Brygge, Fisketorvet or Sluseholmen. Check the opening hours here.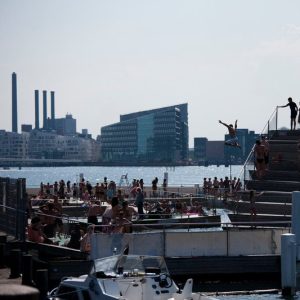 3. Rent a cargo bike
Around 28% of families with 2 kids in Copenhagen own a cargo bike and more and more families replace cars with a cargo bike. One of the most common brands is the Christiania bike which was invented more than 30 years ago in Christiania – a car-free, hippy area of Copenhagen.
"This is especially convenient for families with young children as it is exactly how the Danes transport their own kids as part of their everyday routine." says world traveler Mum, Amy who shares with you the 10 reasons why she loved exploring Copenhagen on a cargo bike. In Copenhagen, you also have the chance to join a customized family tour with a cargo bike and local guide. Learn about the history of Copenhagen and the Danish culture while experiencing how cycling contributes to their world-famous happiness.
Our tip: Travelling all abroad in a cargo bike is not only for children. It can be a fun activity for couples, friends and it is comfortable enough for elderly people too.
Book a cargo bike tour for your family: here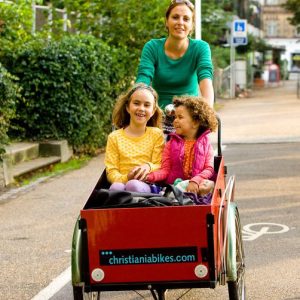 4. Flea markets
Danish flea markets are partly about finding good deals but also about the vibe that makes it a unique experience. Moreover, you can find inexpensive yet unique souvenirs from Denmark. Second-hand books, designer items, children's toy and clothes, antiques and other bric-a-brac. Find the one that most suits your interest here and make sure to bring along your whole family as Danish flea markets are filled with entertainment and adventure for the little ones too.
Our tip: For the best bargains make sure you get there as early as possible.
Indoor markets: Studenterhuset, Prismen
Outdoor markets: Thorvaldsens Plads, Vera's Market
See more here.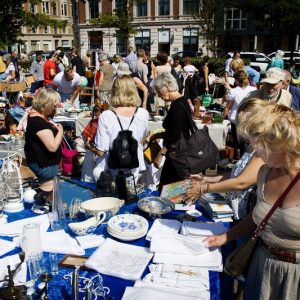 5. Dyrehaven
Dyrehaven started life as the King's stunning hunting lodge and by today it has become a UNESCO world heritage. It literally translates as the deers garden and as the name suggests you will find more than 2000 free-range deer inhabiting the vast area. It takes only a 20 min train ride from Copenhagen city centre by the train to find yourself in the wonderful woodland of the Deer Garden.
Our tip: You can easily stretch the visit to a day trip taking a walk at the nearby Bellevue beach or visit Bakken, the oldest amusement park in the world. All three sights are located only a walking distance from Klampenborg train station. Or book a tour with our friends from Slow Tours Copenhagen.
How to get there: Take the S-train "C" to Klampenborg.
Opening hours: 0 – 24 hours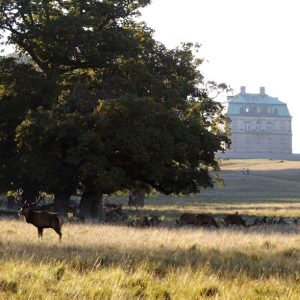 6. Rent a boat
Have you ever imagined being a captain operating your own boat? With GoBoat you can rent solar-powered "picnic" boats for a couple of hours. After a 10-minute-intro from the staff, you will be armed with a map of the harbor, route suggestions and a boat that can carry as many as 8 people with a picnic table in the middle. Neither experience nor license needed!
Our tip: Bring along your picnic basket with food and drinks. (Remember the captain has to stay sober.) You can book your boat here.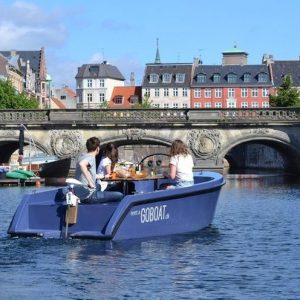 YOU MIGHT ALSO LIKE THESE