A few of our guests, who wanted to go on a family bike tour, were struggling to find information from the cruise ship company, on which terminal their cruise ship will dock. Since I have been on cruise with my own family at different destinations, information is scarce, so I tried to summarize the best tipps on how to get from and to the ship on your own.
We want to support local small tour businesses like ours and believe in the independent and clever cruise guest, who is capable of organizing transportation for his/her family – with a little help from the locals. That's why we decided to share our knowledge about the cruise harbors, public and private transport in Copenhagen with you.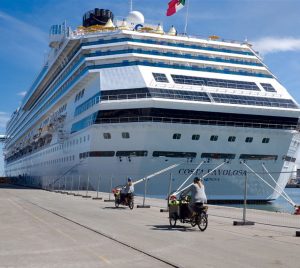 How to find your cruise ship terminal in Copenhagen?
There are two main possibilities for cruise ships in Copenhagen. You can check the planned Quay number of your cruise ship on the Copenhagen Malmö Port website
Once you have figured the number check if it is Ocean Quay or Langelinie Quay:
c190 to c199 Langelinie (Sondre Frihavn)
c331 to c334 Ocean Quay (Nordhavn)
How to get to the meeting point for Copenhagen Family Tours from the cruise ship?
Our family tour starts at a central spot in Copenhagen – the Church of Our Saviour. We start our family bike tours there, because this part of town is easy to reach from many directions, not so crowded as other places and suitable for starting to cycle. On the map you can see the two cruise terminals and the meeting point. the stars show a few important public transport hubs.
Public transport from/to the cruise ships (Ocean Quay and Langelinie Quay)
The locals use their bike in any kind of weather, but those who want, can use the safe and easy public transport system in Copenhagen. The good thing is that 2 kids up to 12 years travel for free for each paying adult.
Just make the trip to the meeting point a part of your family tour of Copenhagen. The easiest way is a combination of taking the bus and the metro (change at "Kongens Nytorv" or "Nørreport"). Some guests also tried 3 public transport means: bus to "Østerport", S-train to "Nørreport" and metro to "Christianshavn", which is the closes metro station and bus stop to the church. (2 minutes walk)
You can try to find your way with the help of the official public transport website
And you can even avoid queuing at vending machines and see how to buy tickets online : here
If you only stay one day we recommend either the Citypass or to download the "DOT Mobilbilletter" App (Apple/ Android)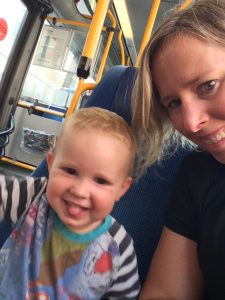 Private transport from/to the cruise chips
You can always ask the reception on board of the cruise ship to order a taxi for you. There will probably also be waiting a few taxis at the Terminal, if you want to take a chance. Calculate with at least an hour all in all from your cabin to meeting point (traffic can be intense). We do cooperate with a mini bus company and can organize a private mini bus with space for up to 8 persons for you as well. Please send us a request and ask for the price. Last but not least you can also take the shuttle bus, offered by the cruise company to Tivoli. From there you take the bus to the meeting point. Tivoli is next to Copenhagen Central Station ("Hovedbanegården" in Danish) and bus 9A will bring you to "Christianshavn" within 15-20 minutes.
We are looking forward to having a great private family bike tour with you. Otherwise we hope we could help you a bit to find your way in Copenhagen on your own.
For more detailed information see this official tourist information website.